Karter Malcomson coos and swivels his head when he hears his name in his mother's reassuring voice.
"You know we're talking about you, don't you?" Karter's mom, Kerrie, says. "Karter is a very happy boy. He's very content. He's very interested in everything, especially people. He's definitely a people person."
His father, Zane, spins Karter upside down on his lap and smiles ensue.
"Kerrie always says how much Karter loves me," Zane says. "I notice it when I come home from work and he reaches out to me and wants me to hold him. We have a great bond."
Karter just turned 2 but is delayed in growth and cognitive abilities. He also has a surgically made hole in the front of his neck into his windpipe to aid in breathing.
"He's obviously very small, the size of a 6- or 8-month-old, and he doesn't walk. He doesn't do any of that normal 2-year-old stuff," Kerrie says.
PREPARING FOR KARTER
Kerrie and Zane knew before Karter was born at Mayo Clinic in Rochester, Minnesota, he would have health concerns. Karter had stopped growing in the womb and was growing extra fingers, a sign of a genetic disorder. He spent three months in the newborn intensive care unit.
As Karter began his life, his parents worried.
"Before his diagnosis, the wondering was the worst — when you just don't know. You're like, 'How do I help my child? I don't know what I'm doing. I don't even know what he has,'" Kerrie says.
But Karter's symptoms didn't place him in any well-defined rare disease category. Even at an institution that sees more than 1.3 million people each year across a wide spectrum of complex conditions, his doctors realized that there was something different about Karter's rare genetic disorder.
The Mayo Clinic Department of Clinical Genomics consults with physicians who treat patients like Karter, whose case was handled by clinical geneticist Pavel N. Pichurin, M.D. Dr. Pichurin and his colleagues try to determine the genetic disorder and provide patients with a diagnosis through review of scientific literature and tests.
But what if, after all testing is complete, the symptoms that a person has don't match up with the results, or the results are inconclusive? What happens if there is no answer? What happens to cases like Karter's?
GENETIC QUEST FOR ANSWERS
Charu Kaiwar, M.D., Ph.D., dreads getting the question at social events: "What do you do for a living?"
"It's not an easy answer. It would probably be an essay," she says.
That's because Dr. Kaiwar, a research fellow, is part of a group that reviews the cases of people who have exceedingly rare or undiagnosed disorders like Karter's. Dr. Kaiwar is one of the members of the functional genomics team at Mayo Clinic's Center for Individualized Medicine. The group includes a team of experts in lab science, data crunching and genetics who are all working together to find genomic-based answers to some of the most puzzling patient questions.
This often means sifting through the literature of thousands of cases and information on thousands of genetic variants in a person's body that may — or most likely may not — be significant.
"It's so complicated," Dr. Kaiwar says. "But there's so much potential here for the future."
That quest for an answer by the staff and patients, who typically have bounced around from different specialists in other health care organizations, can become an all-consuming pursuit.
"We are usually the last resort. We could spend hours or months on it," says research fellow Filippo Pinto e Vairo, Ph.D. "If we are not doing this, it's almost impossible that the physician or genetic counselor can spend the time to do it.
"That's what motivates us. We are a team that works together with different backgrounds. We know we can share experiences and learn from each other and provide something to patients."
The team, which is reviewing about 50 cases at any given time, solves approximately 30 percent of them. And the percentage is rising.
"Many patients with an unknown genetic disorder will have spent years managing their health problems while also trying to determine what the disease actually is," says Margot A. Cousin, Ph.D., a health sciences research fellow. "To be done hunting for the answer, it provides a lot of comfort. These patients and families are finally able to move on from the constant wonder about the cause of their disease and focus on what they might now be able to predict."
KARTER'S CARE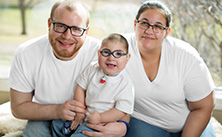 Zane, Karter and Kerrie waited for Karter's test results while Mayo Clinic's functional genomics team investigated. The team worked to verify variants in Karter's C2CD3 gene that were driving his disease, which physicians ultimately diagnosed as oral-facial-digital syndrome, type 14.
Nicole J. Boczek, Ph.D., was one of the leaders of Karter's care behind the scenes for the functional genomics team. She never met the happy-go-lucky boy, but spent months working on his case.
"Karter's testing came back with two interesting variants, both of them within the same gene: C2CD3," says Dr. Boczek, a molecular geneticist. "Only one paper had ever been published regarding this gene related to disease. It overlapped pretty well with Karter's symptoms. But we had to take these findings to the next level and prove these variants of uncertain significance were related to Karter's symptoms."
To do that, Dr. Boczek and the team did additional laboratory testing to show that these genetic variants were affecting protein development and driving Karter's disease. Through the team's work, they homed in on a diagnosis — oral-facial-digital syndrome.
Oral-facial-digital syndrome has at least 13 types, according to the U.S. National Library of Medicine. Karter's case didn't fit in the other 13 categories and was diagnosed as type 14.
"There are nine individuals reported ever in the literature with this condition stemming from this gene," says Dr. Boczek. "Since we've worked on Karter's case, we now are contributing to the literature with four more cases. It is really rare, but it is inspiring."
THE JOURNEY AHEAD
Kerrie says finding an answer to Karter's condition has brought her peace, while Zane said he believes the information will help them in the future.
"There's so much potential. His doctors can only guess at what he'll be able to do, and he continues to surprise us every day," Zane says. "It gives us hope for the future."
Karter's breathing, sleep and vision issues are managed by a comprehensive treatment plan. He also works with a physical therapist weekly. Kerrie raves about the compassionate care Karter and her family have received each step along the way.
"I really have grown to love the care team he has now," Kerrie says. "I don't have to worry."
And Karter, who listens intently and claps intermittently to a musical toy in his living room, has proven the ability to exceed any preconceived expectations.
Kerrie and Zane hope one day Karter will be able to meet milestones such as crawling, changing positions and maybe walking. But for now, they're happy that he's happy.
"Karter is a happy boy, not someone with health issues," Kerrie says. "He's very personable. He's everybody's best friend."
---
A RECIPE FOR UNDERSTANDING GENETIC FUNCTION
Genetics continues to be at the forefront of research, patient diagnosis and treatment. But how do each person's genes and genetic variants factor in his or her care?
Consider the example Nicole J. Boczek, Ph.D., uses when she discusses the role of genetics:
"There are trillions of cells in someone's body, and all of them have a copy of a 'recipe book' (your DNA). That recipe book helps each cell make all the different recipes to help us live our lives every single day, making each cell function, helping our hearts beat, making our digestive system work properly, and so on.
"There are typos in every person's recipe book. A lot of times, these typos are small, maybe a word is spelled wrong, but it doesn't change the content. Your body can still read and understand the recipe and everything is fine. But if there's a typo at a key point, such as changing the baking temperature from 350 degrees Fahrenheit to 550 degrees Fahrenheit, this can completely change the end product and may cause a significant problem.
"So our goal is to try and find all of the typos in each recipe — or gene — and see which ones are actually important and make significant changes to the recipe to establish if there's going to be a problem."
THE BEGINNING OF A TEAM
In the late 1990s before he earned a doctoral degree, Eric W. Klee, Ph.D., became hooked on an emerging field of science.
Dr. Klee, from a family of medical doctors, still wasn't sure whether to pursue an M.D. when mentor Franklyn G. Prendergast, M.D., Ph.D., told him that the future of medicine would be in a developing field of study.
"I like computers. I like technology, but I also liked medicine," Dr. Klee says. "And Dr. Prendergast said, 'There's a field in science called bioinformatics. It doesn't really exist yet, and it won't exist for a few years, but when it does, it's going to be important for decades.'"
Dr. Klee took the leap of faith that the numbers would work out in his favor, graduating with a Ph.D. in health informatics/bioinformatics. He joined Mayo Clinic in 2005 as one of the first employees hired with a degree based in the emerging field that applies large amounts of health data into individualized tests and treatment plans for patients.
In 2012, Mayo Clinic created the Bioinformatics Program under the direction of the Center for Individualized Medicine. The center also launched the Individualizing Medicine Conference to provide a space for collaboration aimed at better incorporating genomic information into patient care.
At the conference Dr. Klee sought out then-center director Gianrico Farrugia, M.D., and associate administrator Scott A. Beck to propose the idea of a team that could dig deep into the functional science of genetic changes on behalf of patients with undiagnosed genetic disorders. Benefactors helped the concept gain seed funding, and the functional genomics team blossomed.
###
Mayo Clinic is a nonprofit organization committed to clinical practice, education and research, providing expert, whole-person care to everyone who needs healing. This article was originally featured on the philanthropic site "You Are...the campaign for Mayo Clinic."
Tags: About, Center for Individualized Medicine, Charu Kaiwar, clinical informatics, collaboration, Eric Klee, genetic testing, genomics, Gianrico Farrugia, health sciences research, Innovations, Margot Cousin, Nicole Boczek, Pavel Pichurin, People, Progress Updates, rare disease