Heidi Kosiorek once thought of being a medical doctor, but found something she was more passionate about – the numbers and science behind medicine. At Mayo Clinic, research drives everything we are able to do for patients, and Kosiorek's work has contributed substantially to our understanding of a number of different cancers.
Not only is she an accomplished statistician, but she has mentored several doctors in the course of her career, as well as many other statisticians engaged in biomedical research.
She recently was recognized for her continuing contributions to science by Nature, "a weekly international journal publishing the finest peer-reviewed research in all fields of science and technology on the basis of its originality, importance, interdisciplinary interest, timeliness, accessibility, elegance and surprising conclusions."
Kosiorek was highlighted in an article Wednesday, Apr. 22, "Three researchers who are coming at cancer from all angles." The article discusses her and two peers who were selected for the number and quality of their research publications.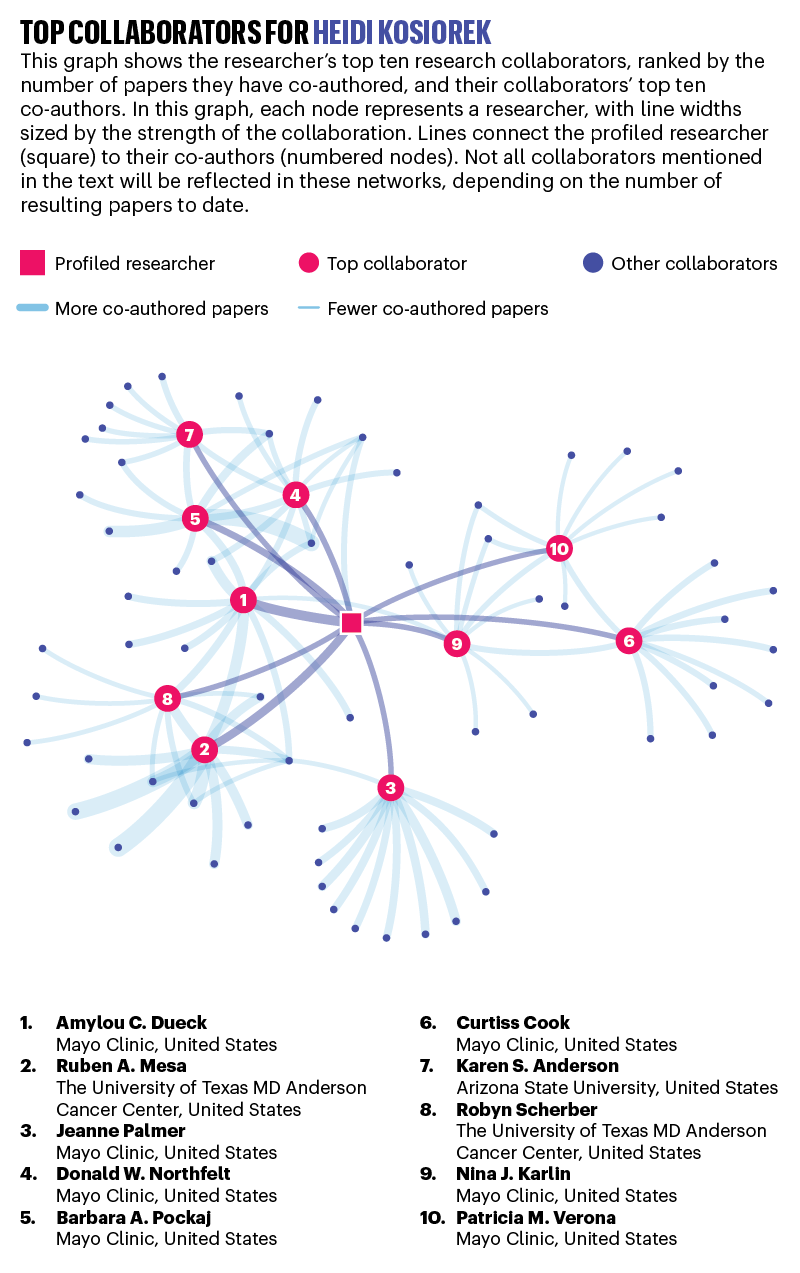 These researchers have extensive collaborator networks, within which they work to build the evidence base in their field of study. For Kosiorek, this is cancer.
"Collaborating with an outstanding statistician like Heidi is critical to creating meaningful scientific knowledge," says Donald Northfelt, M.D., oncologist and associate medical director of the Breast Clinic at Mayo Clinic in Arizona.
"In all clinical science, achieving statistically significant and valid understanding of our observations is necessary if that science is going to be considered sufficiently reliable to drive clinical patient care," Dr. Northfelt continues. "Heidi works tirelessly to insure that we are asking questions and reaching conclusions reliably based on the data at hand. Her skills are essential to our work."
Nature's editors clearly agree, and Kosiorek's average annual publication count of 30.2 provides the statistic to back that up.
Read about Kosiorek, and the other featured researchers, online.
###
Tags: Amylou Dueck, Barbara Pockaj, cancer, Curtiss Cook, Donald Northfelt, Heidi Kosiorek, Mayo Clinic Cancer Center, News, Nina Karlin, Patricia Verona, People, Ruben Mesa