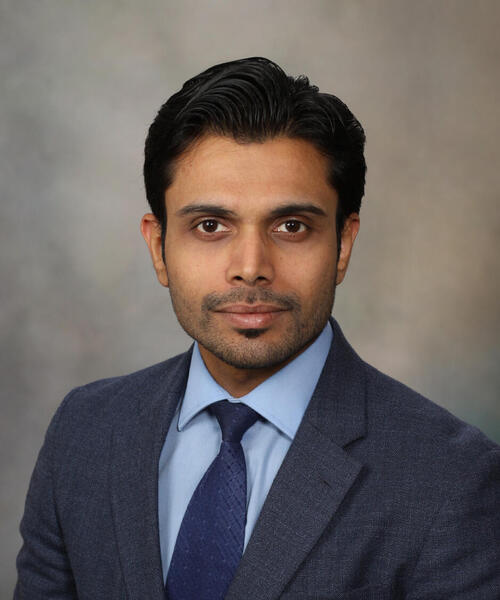 Divyanshu (Div) Dubey, M.B.B.S., a Mayo Clinic physician and researcher, who holds a dual appointment in neurology, and laboratory medicine and pathology, recently led a multi-institutional research study to advance understanding of KLHL11 encephalitis or testicular cancer-associated paraneoplastic encephalitis.
Published in JAMA Neurology, the paper builds on the work Dr. Dubey and other members of his research team reported on in 2019.
"Our first study on this syndrome was focused on discovery of the KLHL11 antibody with brief clinical description of 13 cases," says Dr. Dubey. "However, in this study our focus has been more comprehensive clinical analysis and understanding the disease mechanism."
In the latest study, the team was able to thoroughly characterize 39 patients with the 'sparkles' that they first identified in the earlier study. (Read related news release.)
The sparkles, or KLHL11 antibody, present in the brainstem or with cerebellar involvement continue to be the most common presentation. However, the investigators also describe some atypical clinical presentations which may help identify more cases, says Dr. Dubey.
Additionally he says,"This study highlights the importance of hearing loss in early diagnosis of this syndrome, as many cases developed this months prior to encephalitis. We also describe how the discovery of the KLHL11 antibody helped in identifying and treating many cases, which were previously misdiagnosed."
Dr. Dubey explains that because "the KLHL11 protein is hidden inside the neurons, the KLHL11 antibody itself is not considered causative."
Instead, in the latest research, he and his team "demonstrate how the T-cells form these patients attack the same KLHL11 protein and likely cause this disease."
To support the immunological findings, the team included brain biopsy and autopsy images from the patients included in the study. These images also demonstrate the aggressive nature of this T-cell mediated disease early on, and show complete neuronal loss at later stages of the disease.
"This support our prior clinical observations that if treatment is delayed the disease becomes irreversible," says Dr. Dubey.
The researchers also performed DNA analysis on the patient samples, identifying some genetic factors such as common HLA alleles which may potentially predispose some testicular cancer patients to this disease, says Dr. Dubey.
Study data included information on long-term outcomes, which Dr. Dubey says is very helpful in understanding natural history of this disease. For example the team's findings indicate that nearly 60% of patients with KLHL11 encephalitis are wheelchair dependent within two years of disease onset.
Dr. Dubey also noted, "Another important finding is that patients in whom we were able find the testicular cancer did much better than those in whom testicular cancer was not detected, or those in whom it was already destroyed by the cancer specific immune response at the time of encephalitis diagnosis."
This research is part of a larger body of work the Mayo group has done on paraneoplastic disorders. The complete list of authors and collaborating institutions can be found in the paper, as well as funding information and other disclosures.
###
If you enjoyed this article, you might want to subscribe for regular updates.
If you want to share this story with friends, social media links are at the top of the article.
And if you want to see other recent stories on the blog, the index page is a great place to start.
Tags: antibodies, brain, collaboration, Department of Laboratory Medicine and Pathology, Divyanshu Dubey, DNA, encephalitis, Findings, neurology, News, Progress Updates, testicular cancer