An air traffic controller sits in a tower, with a bird's eye view of the inbound and outbound aircraft, screening and monitoring air traffic in the region. The controller provides timely, essential information to pilots, and air and ground crew members, ensuring the planes are on the right path, at the right time, to safely reach their destination.
At Mayo Clinic, a multidisciplinary team of researchers and practitioners has developed a "control tower," complete with a medical "air traffic controller." This project was the first proof of concept case for the innovation framework concurrently developed and tested by researchers from the Mayo Clinic Robert D. and Patricia E. Kern Center for the Science of Health Care Delivery.
The inaugural iteration of a health care control tower is in Mayo's Center for Palliative Medicine. A bird's eye view is provided by an artificial intelligence algorithm working with electronic health record data. And with its feedback, the Palliative Care providers can spot the patients most likely to benefit from the type of support that is the hallmark of their service. They can then offer timely support and consultation to the patients' care teams.
The algorithm has been trained to spot hospitalized patients who are managing complex medical needs. On a near real time basis, it sifts through the massive amount of data that exists in an individual patient's health record and compares similar patients with known outcomes. It then alerts the Palliative Care team on those most at risk and who would benefit from additional support for symptom, quality of life, and pain management.
How it all began
The control tower was the brainchild of Brian Pickering, M.B., B.Ch., a Mayo Clinic anesthesiologist. Dr. Pickering envisioned a system that would provide a variety of alerts, and a centralized health traffic controller who would determine the validity and urgency of those alerts, directing action as indicated. To build this new capability, multidisciplinary collaboration was required, and an exemplar model selected. Jacob Strand, M.D., chair of the Center for Palliative Medicine, claimed that spot for his service immediately.
Along with Dr. Pickering, experts from the Kern Center helped the palliative care team identify the critical project elements. As they began the project, it morphed into something bigger. Rather than a specific solution that might work for a handful of practice areas, the control tower concept became a pilot for the development of an "innovation framework" — an encompassing term that includes the tools, people and infrastructure necessary to enable a practice area to access their artificial intelligence solution and use it.
Because Mayo Clinic has many patients with advanced cancer, heart failure and other conditions that require aggressive forms of symptom management, Dr. Strand was happy to have signed up to be the first use case for the innovation framework — and the recipient of the first artificial intelligence control tower solution.
"Palliative care is sometimes confused with hospice care, which is associated with easing the last months of a person's life. However, palliative care is an appropriate care consideration for all people with serious or complex medical conditions. It encompasses not only medical therapies to lessen side effects, but also emotional, social and spiritual support necessary to improve quality of life," explains Dr. Strand.
Patients may be admitted to the hospital with extremely complex cases, and their inpatient care team may not realize that Palliative Care could be helpful – perhaps very early in their hospitalization. However, the new tool looks at several factors to identify these patients and prompt Palliative Care to offer a consult.
Those factors include previous hospitalizations, complex diagnoses, intensive care unit status, lab values and frequent readmissions that might trigger concern for their care providers.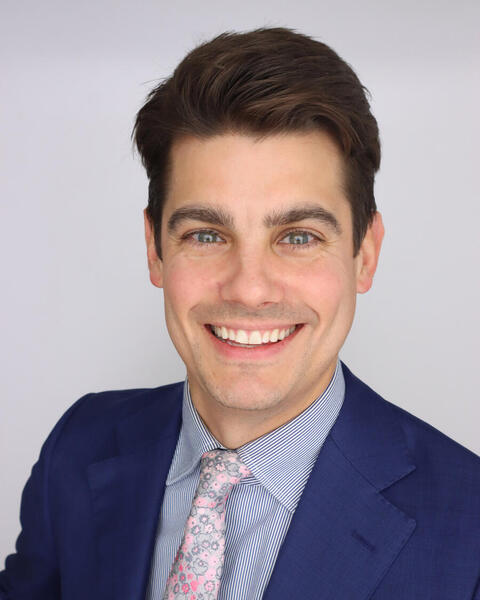 "The technology is taking all of these variables from the electronic health record and putting together a score to help guide palliative care clinicians who can then look at that list of patients, review parts of the electronic health record, and say, 'I really think we could provide added value in caring for this patient,'" Dr. Strand says. "Those conversations can then start with the teams who are caring for those patients. The technology is helping us better tailor our response to patient needs."
Innovation framework, building a control tower
With the expanded charge to develop a framework for artificial intelligence-centered innovation, the Kern Center brought together the engineering, design, knowledge management and analytics capabilities essential to building both the physical interface and the artificial intelligence behind the project. The interdisciplinary team also included essential support from Information Technology.
One area of critical expertise on the team was data science, led by Curt Storlie, Ph.D., Robert D. and Patricia E. Kern Scientific Director for Data Science.
For the test case, as they do for all potential new artificial intelligence solutions, the team started by determining the question needing to be answered.
"We first had to figure out 'what problem do we want to solve?'" says Dr. Storlie, adding that just knowing people could benefit from palliative care would not be enough. "Building an algorithm does not change practice. Using the algorithm to alter the workflow changes practice."
Building a framework to accommodate this project and other innovations to come also required interdisciplinary brainstorming on how to navigate operational, logistical, and financial hurdles. At Mayo, these challenges included the new, and regularly updating Epic electronic health record, and the emerging relationship with Google.
"All of our underlying information structures were changing under our feet," remembers Dr. Pickering. "We were essentially trying to build this new technology on top of a moving foundation."
The team needed to have a plan that accounted for the new information structures, storage, personnel, and the unknowns that would come along with them.
And through it all, the team had to remember their goal was finding an appropriate way to introduce the use of predictive artificial intelligence technology into regular use in the Practice. "One can imagine being a patient and having an algorithm that's suddenly identifying you as someone who should start thinking about what their health care goals are," Dr. Pickering says. "That can be a very controversial and disruptive message for patients to receive."
However, Dr. Strand saw the control tower prompts and subsequent Palliative Care contacts as an opportunity to assist care teams in having those conversations. And to remind both patients and health care providers that palliative care is much more than just end-of-life care. It will lead to more patients receiving supportive care and pain management, he says, improving their quality of life and overall health care experience.
Dr. Storlie agrees that artificial intelligence solutions weighing in on a patient's individual care decisions might be a little off putting. However, "we aren't talking directly to the patients, the control tower is monitored and acted upon by Palliative Care providers, who offer support to the patient via their care team.
Getting 'gooey' and maintaining a human connection
Drs. Pickering, Strand, Storlie, and the rest of the team knew from the start that there would have to be real people monitoring the Palliative Care Control Tower and assessing its alerts carefully.
"We decided very early on that the control tower technology needed an operator, which would be a human filter who would sit between the artificial intelligence algorithms, the practice, and the patients and work to filter these palliative care alerts very carefully," Dr. Pickering says.
"Valid, high quality alerts require not only algorithms in the background, but also a graphical user interface, the GUI (pronounced 'gooey')," continues Dr. Storlie.
Comprised of numerous screens and different pieces of data, the GUI required the involvement of many different members of the palliative care team during development. While the original control tower concept called for a general medical expert to review and process a wide variety of alerts, Dr. Storlie says it quickly became clear that was not feasible. Through the development and testing process, the multidisciplinary team learned that the best practice was a palliative care provider directly receiving the alerts, then screening the related patient records. This person then connects directly with the care team to offer the indicated advice or support.
"The discovery and development process within the innovation framework is intended to be very collaborative," says Dr. Storlie. In the case of the Palliative Care Control Tower, that included physical co-location of several of the research and development team members. The physical station for the GUI, while under development, was centrally located just outside of the Palliative Care Clinic.
"Its proximity to the practice was fantastic," observes Dr. Pickering, recalling the plan coming together. "I really liked the way we were able to bring human beings together with this technology in a physical hospital space. It's been very powerful in terms of driving this project forward."
For the Palliative Care Control Tower, the development, evaluation, and implementation are now complete, and Dr. Strand and his team are anxiously waiting go-live outside of the research environment.
This requires movement of the algorithm and GUI intelligence into the 'hardened' data management environment in which dynamic patient information is stored and managed. Dr. Storlie says the hardest part now is the waiting.
"This algorithm and the GUI don't exist in a vacuum," says Dr. Storlie. "We need the palliative care specialist to interpret the alerts, identify and offer the correct interventions. And we need permanent knowledge management capabilities and a technology team in the background."
"To fully realize the value of the innovation framework, the final steps have to occur," he continues. "It's not enough to develop a good answer for a clinical problem. A new system – whether simple or complex – requires someone to maintain it."
Referring to the air traffic controller analogy, Dr. Storlie cites the radars, computer screens, radio and telephonic communications, data security and other tools and technologies the controller requires. None of these are managed by the controller, but they are integral to the ability to accurately and efficiently analyze information and direct safe behavior. "Just so do we need secure data storage, working equipment, the technologists who can fine tune or upgrade of the algorithm, or implement enhancements in the GUI," says Dr. Storlie.
Dr. Strand says there is no time to waste.
"This technology is really about helping to get patients and clinicians better connected to each other and getting patients and their loved ones better connected to the models of care that are going to help them," Dr. Strand says. "We think about this as a technology, and it is a fascinating technology. But the end result is about human connection between patients and the caregivers who can be most helpful to them in improving their quality of life. For us, that's the most exciting part of this."
###
Related study: Improving the delivery of palliative care through predictive modeling and healthcare informatics, J Am Med Inform Assoc. 2021 Jun 12;28(6):1065-1073. doi: 10.1093/jamia/ocaa211.
If you enjoyed this article, you might want to subscribe for regular updates.
If you want to share this story with friends, social media links are at the top of the article.
And if you want to see other recent stories on the blog, the index page is a great place to start.
If you enjoyed this article, you might want to subscribe for regular updates.
If you want to share this story with friends, social media links are at the top of the article.
And if you want to see other recent stories on the blog, the index page is a great place to start.
Tags: artificial intelligence, Brian Pickering, Center for the Science of Health Care Delivery, clinical informatics, Curt Storlie, data science, electronic health record, Innovations, Jacob Strand, medical innovation, News, pain management, palliative care, quality of life, symptom management