Already a concern before the COVID-19 pandemic, reduced resiliency and burnout among health care providers has become its own crisis. At Mayo Clinic, a number of multidisciplinary teams are looking at ways to reduce burnout and create opportunities to retain and renew resiliency.
One recent study, published in the Journal of the American Board of Family Medicine, surveyed a cross section of primary care providers — from Mayo Clinic and Mayo Clinic Health System in the Midwest — whose practice included an integrated clinical pharmacist.
The researchers targeted four known drivers of burnout: workload and job demands, efficiency and resources, meaning in work, and social support and community at work.
Of the 295 physicians and advanced care providers invited to participate, 40% responded to the survey, with the majority (87%) of respondents agreeing that an integrated clinical pharmacist led to:
Reductions in individual provider's workloads, especially when the pharmacist was able to work directly with patients and care team staff.
Improvement in provider's ability to understand and prescribe for synergistic, individualized medical therapy.
Increases in patients' capacity to meet health goals, thereby improving quality measures.
Better overall management of patient panels.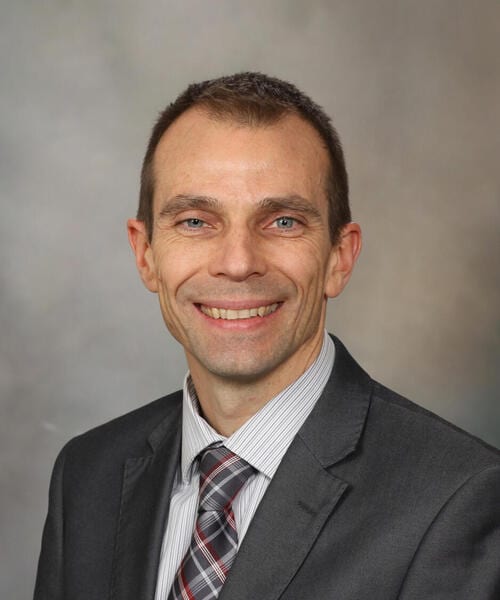 Some more intrinsic rewards of an integrated clinical pharmacist were reported as well. Providers found greater meaning in their work through the presence of the clinical pharmacist — in part because it allowed them more time to focus those aspects of work they found more fulfilling, and because it reduced their emotional exhaustion. Overall, 91% of providers were extremely satisfied with the clinical pharmacist support.
"I was pleased to participate in this research, because my colleagues and I really do find integrated pharmacists incredibly valuable," says Jay Mitchell, M.D., a primary care physician at Mayo Clinic, and one of the study's authors. "We are finding more and more value as we integrated different specialists into our practice."
"Clinical pharmacists add expertise that improves outcomes for our patients and lowers costs of care in a variety of ways," he says. "They also help increase our professional efficiency for patients with polypharmacy needs, and our personal resiliency."
The research team published this study as a continuation of their research investigating the value of integrating clinical pharmacists routinely into patient care. A study published in late 2020 identified financial savings and a reduction in total cost of care for high-risk patients who participated in a collaborative visit with a clinical pharmacist and their primary care provider.
Read the story: Primary Care – Pharmacist Collaboration during Care Transitions Adds Measurable Value.
This latest study, and the previous one, were conducted with the support of the Mayo Clinic Robert D. and Patricia E. Kern Center for the Science of Health Care Delivery. As a research center fully embedded in the medical practice, the center is creating and fostering a learning health system within Mayo Clinic. Learning health systems use data and analytics to generate knowledge to inform decisions that transform the clinical practice. Center researchers work hand-in-hand with clinician investigators, administrators and others, taking a scientific approach to improving health, and healthcare delivery.
###
If you enjoyed this article, you might want to subscribe for regular updates.
If you want to share this story with friends, social media links are at the top of the article.
And if you want to see other recent stories on the blog, the index page is a great place to start.
---
Tags: burnout, Center for the Science of Health Care Delivery, clinical research, Findings, Innovations, integrated specialty care, Jay Mitchell, Mayo Clinic Health System, News, patient experience, pharmacy, physician burnout, primary care